For nearly four centuries, gallery walls have been a chosen aesthetic to bring blank walls and empty spaces to life. Originally called "salon walls," this style of home decor has stood the test of time - and for good reason. They're perfect for beautifying, personalizing, and storytelling - whether it's family photos, depictions of nature, artistic paintings, or even clocks and mirrors and more!
  So if you're wondering how to use picture frame mouldings to create this elevated look in your space, here are some easy steps. Let's "hang" on!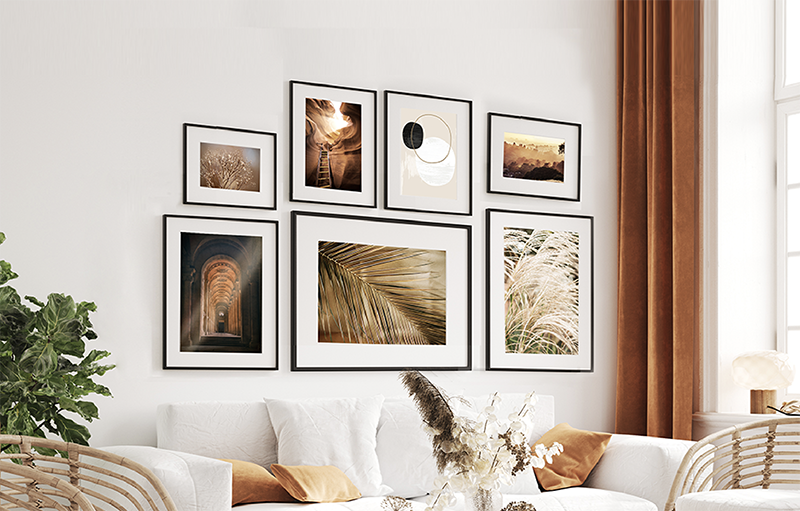 Choose Your Style
  Let's get the ball rolling! This is where most concepts will come into play. What look speaks to you and fits within your decor - modern? classic? or minimalistic?
  Whatever you choose, the art should live well within the perfect frames for them, as the right picture frame mouldings make all the difference with gallery walls.
  Measure Up
  Before embarking on your journey, it's best to take the lay of the land. Measure the area where you're hanging your gallery with a focus on keeping it centered above any furniture that may be beneath it. A good rule of thumb is to measure approximately 60" from the floor to the middle of the art. It's also a good idea to leave a bit of extra space on either side of the gallery to support the symmetry of placement.
  You'll want to consider the exact sizes of your picture frames, especially if you're using custom frames of differing sizes. Measure the height and width, as well as the distance from the top of the frame to the hanging wire where the nail will be.
  Keeping proper "padding" between frames is key for a pleasing eye flow. Most styles do well with the same measurement between artworks, especially with grid layouts or same-style frames. No matter your theme, an ideal distance would be between 2" to 6" of space between each frame.


  Eyeballing your gallery wall is generally very risky; instead, we recommend mapping it out. This way, you'll know exactly where to place each nail, while ensuring all spacing remains consistent. Attach the paper map to your wall, hang it accordingly, and then easily tear the paper away, leaving your wall perfectly in place.
  Intco Framing has been specializing in manufacturing premium picture frames and focuses on every detail of design, material and production to pursue perfect products. Our purpose is to provide you with custom picture frames at affordable value and help you create a sweet home.
  If you want to wholesale our quality photo frame and start a new project, get in touch now and see what we can do to keep your business growing.